John Anderson
Executive Chef
---
---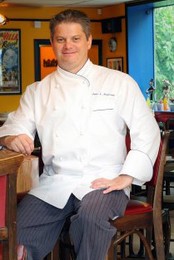 John Anderson started out as ballet dancer. After graduating from the prestigious New York High School of Performing Arts, he earned his BFA in dance and lived in the Big Apple. John worked as a ballet dancer while also waiting tables to pay the bills. That's how the restaurant bug hit him.
His restaurant moonlighting influenced him into switching careers and plunging himself into the métier of chef. John rose to the position of sous-chef before he entered the Culinary Institute of America at age 28. After graduating the CIA, he worked at the world-renowned Daniel in the Big Apple. Eventually he relocated to Philadelphia. "My wife was in law school down here," he explains. "I came down and liked Philly. It's a nice place to live so we decided to stay."
John became the first sous-chef at the Quaker City's heralded Striped Bass, where he worked under Philly's legendary Alison Barshak. After a few years at the Striped Bass, John accepted the position of Executive Chef at Husch in Narberth. His much heralded Seared Ostrich with Foie Gras at Husch earned him a Philadelphia Magazine "Best of Philly" Award.
John followed his stint at Husch with a few years of consulting and donating time to charitable events. In 1998, he was named Executive Chef at Solaris Grille. "I set out to create a fine-dining establishment in a neighborhood environment," he states. I'm striving to provide quality at reasonable prices and an atmosphere where a guest doesn't ever feel out of place ordering a hamburger."
He is succeeding. Solaris Grille is a landmark in Chestnut Hill. The culinary chops he mastered in the CIA, Striped Bass, Daniel, and elsewhere flavor his delicious entrees. And as for guests not feeling out of place eating a hamburger, John won the "Best of Philly" Award for Gourmet Cheeseburger. In the Quaker City, that qualifies him for Mayor.





---