Striped Bass

UPDATE: This restaurant is no longer in business! Elegance and class grace this upscale eatery, as apparent from the striking architectural space as the fashionable guests that fill it. At the table, seafood reigns king, and Chef Alfred Portale is a master at transforming each fish into a stunning, if not sometimes eclectic masterpiece. With a raw bar, winning wine list, and seasonal menu that celebrates the bounty of the oceans around the globe, there is not much else the Striped Bass could do to offer a more chic, elegant, and delectable dinging experience.
---
---
Photos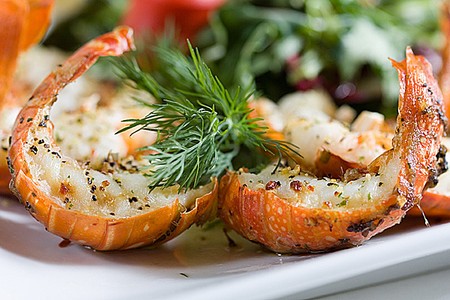 ---
Restaurant Info
Address:

1500 Walnut Street,

Philadelphia

PA

19102

Cross Street: 15th St.
Category: Fine Dining
Reservations: Unknown
Parking: Street |
Payment Options: VISA | Amex | MasterCard |
Corkage Fee: N/A
Staff: Stephen Starr | Owner
Alfred Portale | Executive Chef

Website: http://www.stripedbassrestaurant.com/
Phone: 215-732-4444
Business Hours
Monday

Tuesday

Wednesday

Thursday

Friday

Saturday

Sunday
Features
Full Bar
Private Room
Prix Fixe Menu
Smoking Area
Winning Wine List
Chef's Table
Occasion
Romantic Dining
Business Dining
People Watching
Quiet Conversation
Special Occasion
---
F.A.Q. - Frequently Asked Questions
---
---
Map
Restaurant Address:
1500 Walnut Street,
Philadelphia
PA
19102
---
User Reviews
MOST WONDERFUL DAY OF MY LIFE!!!
I honestly don't know where to start. From the moment you walk into the Stripped Bass the staff was SUPER!! As for the food, there are so many choices, but best off is the tasters menu with the wine that follows. I HIGHLY recommand that. The wait staff and all the chef's went above and beyond for us. Once we walked in, we told them that we just got engaged and they were wonderful. Between each little meal they brought a little something special for us. The most memorable moment was at the end when the pastery chef made a small double layer chocolate wedding cake with the word "congratulation" all in chocolate lettering. I can't say enough about the service and atmosphere at the Stripped Bass. Thanks again for the most wonderful day of my life.