Mark Vetri
Executive Chef
---
---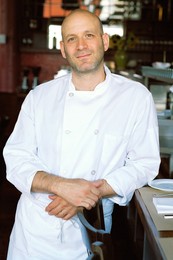 As one of the United States' most esteemed Italian restaurants, Vetri has made a name for itself with truly envelope-pushing cuisine served in the heart of Philadelphia. The driving force behind the phenomenon, Chef Marc Vetri, brings to the table a unique perspective on Italian fare. Trained in the Italian enclave of Bergamo, Vetri has enjoyed the fruits of his considerable labors through the recognition of his peers and critics. After being named to Food and Wine's Ten Best New Chefs list, this culinary wunderkind refused to rest on his laurels and went on to win the James Beard Award for Best Chef Mid-Atlantic, a rarified honor. Behind the accolades, however, is an intensely passionate practitioner of culinary arts for whom the term "chef" is woefully inadequate.
Before picking up any saucepan, the lanky Vetri considers how best to create a meal that not only feeds the stomach but nourishes the spirit. He aims to send diners home with satiated appetites for both fine food and fond memories. "I'm looking for them to feel warm and welcomed. I'm looking to bring back childhood memories of family and friends, see them laugh out loud and enjoy themselves," he explains. For Chef Vetri, so much of the dining experience harkens back to family and making loved ones the centerpiece of every meal. Though he has trained under such luminaries as Wolfgang Puck, it's obvious that his proudest moments were spent stove-side with his Sicilian grandmother in South Philly.
After laying the foundation for an enduring love affair with cooking, Vetri explored Italy's kitchens with the passion of a true epicurean. His exposure to Italian cuisine in its original birthplace was wholly transformative for the young Vetri whose journeys in the country provided the bedrock for his future: "My time in Italy was the most poignant for me. It was then I realized that I wanted to cook forever."
Enamored with the humble artichoke ("I love playing with all the shapes and sizes"), this chef counts making fresh pasta from scratch among his favorite pastimes. This love of fresh, simple ingredients is echoed in his commitment to environmentally sound practices. Well versed in the importance of sustainability, Vetri and his staff strive to ensure that both Vetri, and the chef's nearby trattoria Osteria, leave only a minimal environmental impact. Some of these efforts include "work[ing] very closely with farmers and sustainable products. We definitely have an advantage being in this area."
The chef's attention to detail is hardly limited to thinking green. Vetri's wait staff is unfailingly attentive and knowledgeable, serving up some of the finest table side manner in the city. In addition, Chef Vetri's understanding of ambiance is exceedingly nuanced and his sense for the perfect dining environment comes alive in both his restaurants. "The food is very similar," Vetri concedes of his two restaurants, "but the atmosphere is different. Vetri is more refined, a celebration place for birthdays and anniversaries, a tasting of sorts. Osteria is a party- fun- great to just stop in with friends and get a couple things off the menu. They are similar but at the same time completely different."
No stranger to bold design, Vetri also places a high premium on interior décor and the effort does not go unnoticed. On a recent evening, diners were overheard musing on the rustic wooden beams and intimate warmth that Chef Vetri has worked so hard to achieve. "It defines the restaurant," the chef insists. "Make a statement. It can be a simple statement, but you need to make a statement."
Leaving an impression is not something this worldly chef has ever had trouble with. As a local culinary savant, Chef Vetri possesses an inherent feel for what works and what will fall flat, on the menu or otherwise. Much of that ability has been honed on the Philadelphia restaurant scene, a shifting landscape of food culture that has supported Chef Vetri for over a decade. He observes that "there are much better chefs now, and lots of them. It used to be a two man town. Now, everyone opening up a restaurant knows how to cook well." He also points to the blossoming diversity of culinary choices available to diners today that don't sacrifice quality for flavor, noting, "there is so much more variety now too. You can get any style of food at a high quality."
The chef sees no sign of this evolution slowing down anytime soon. Given the cyclical quality of cooking trends, Vetri notes, "I think the more it evolves the more it just goes back in time to how simple things used to be. The time of adding ingredients is over, because complicated dishes are over. It's all about simplicity." From South Philly to the Italian countryside, Chef Marc Vetri has taken the best of Italian cooking and redefined this beloved cuisine. Every night, Philadelphia diners revel in his creations, not knowing that with every bite, they are tasting the future.
---