Olivier Desaintmartin
Executive Chef
---
---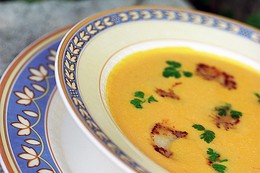 Olivier Desaintmartin has perfected his knack for French cuisine by studying under some of the world's most renowned French Chefs – Michel Guerard, Jacques Chibois, Gaston Lenotre, Gilbert Le Coze, just to name a few.
But while he's learned from the best in his field, Desaintmartin himself is starting to live up to his own greatness. With two successful Philadelphia staples to his name and the prestigious honor of receiving the Maître Cuisinier de France ("Master Chef of France") award for 2009, Desaintmartin is making his own way in the culinary industry.
While Caribou Café was Desaintmartin's first Philadelphia restaurant, ZINC is the friendly neighborhood bistro that brought him the recognition that lead to his recent award.In creating ZINC, Desaintmartin aimed to recreate the authenticity of a true French bistro, much like those one would find on the back streets of Paris's artsy, historic neighborhood— Le Marais.
His award marks this effort a true success, but his road to get here was one that began a long time ago – stemming back to the days when he was a boy growing up in Champagne."My mother is the best chef in the world, she's very, very good and I grew up with the flavors and the smells from her kitchen." Desaintmartin said. "I've always wanted to be a chef."Sitting in the dining room of ZINC, one might get a feel for what growing up learning to cook from his mother was like as the smells of traditional French dishes creep from the kitchen and warm the intimate dining room.
But while his mother has always been his inspiration for cooking, Desaintmartin's culinary education formally began when he studied at The Hotel School in Paris, where he graduated from in 1977.From there, he went on to serve apprenticeships and learn under France's best-known culinary talents including Michel Guerard and pastry chef Gaston Lenotre. In 1986 Desaintmartin brought his talents to the U.S. and was invited by Gilbert Le Coze to work in the kitchen at New York City's esteemed"Le Bernardin."In 1989, Desaintmartin shifted cities to Philadelphia when he placed his name on the local gastronomic radar with his work at the Bellevue Hotel. At the Bellevue he was quickly promoted to the position of the hotel's gourmet chef.After venturing outside of the city limits to head Cherry Hill's La Campagne for a few years, Desaintmartin came back to this city he had previously fallen in love with – Philadelphia, first entering into a partnership at Dock Street Brewery and then taking on his first solo venture with Caribou Café, which he transformed into the Philadelphia staple it is today.
In September 2007, ZINC was born into Midtown Village – just a few blocks away from Caribou Café. Here, Desaintmartin decided to incorporate a one of a kind piece of Parisian culture – a zinc bar constructed in 1919. Until ZINC came to Philly, the bar sat in a Parisian bar of its own. Desaintmartin transferred it to Philadelphia and refinished it before placing it in the restaurant– giving diners a true glimpse of an authentic rendezvous in Le Marais.
The historically rich bar combined with the quaint décor and comfortable cuisine and atmosphere make ZINC one of Desaintmartin's major successes. At ZINC, Desaintmartin sticks to the home cooked, bistro friendly appeal.
"What we try to do here is create home cooking that you would find at every home in France," he said of the fare, which, he calls "cuisine bourgeoisie".
But while the food at ZINC stays focused on classic and traditional French dishes, Desaintmartin said he is comfortable going anywhere with his culinary feats. "I studied pastry and I've done some game," Desaintmartin said. "I'm comfortable everywhere."
There are always different specials offered for dinner and brunch at ZINC and Desaintmartin said he likes to lend his culinary creations to the tastes of the given seasons. Fall, he said, invites dishes centered around game, mushrooms and earthy spices while summer evokes dishes that play more with seafood. Although Desaintmartin's menu at ZINC changes two to three times a year, depending on the season, there are some staples, he can't take off – such as the steak frites, which features hand cut French fries, and the scallops.
Overall, the vibe Desaintmartin gives off at ZINC is friendly, casual and professional at a price Philadelphia diners can easily afford."I want it to be casual," he said. "I like people to be comfortable here and it is very, very good value."
Since receiving the Master Chef award, Desaintmartin has offered diners at ZINC the taste of a new spirit, created especially in celebration of his accomplishment. The Master Chef of France "brut" is a blend that includes Chardonnay and Moet. Created about six months ago, there is nowhere else in the U.S. you will be able to find this smooth, fizzy blend outside of Desaintmartin's restaurants.
With both Caribou Café and ZINC running strong, Desaintmartin said he is waiting to see what happens with the economy before venturing out into any other projects. For now, it's safe to say that Philadelphia foodies can revel in the time and energy Desaintmartin puts into his two Midtown Village jewels, and maybe, somewhere down the line, we'll have another one of his restaurants around to enjoy French food at its finest.
---